Have you ever asked yourself what kindness means to you?
Living in the modern world means we are always switched on and have so many considerations in everyday life, it can be easy to just focus on ourselves and forget about the people around us and how even a small act of kindness can make their day.
According to an article published by mentalhealth.org.uk being kind and generous can also positively impact physical and mental health, giving you a boost knowing that your actions are improving the lives of others.
To celebrate World Kindness Day, 13th November, Vanquis Bank wanted to know how the UK spends their cash, after covering their household bills.
The results revealed that generosity is at the heart of the UK, with respondents in every region stating that spending money on their family members is their first consideration. This raises the question, what is the most generous region in the UK.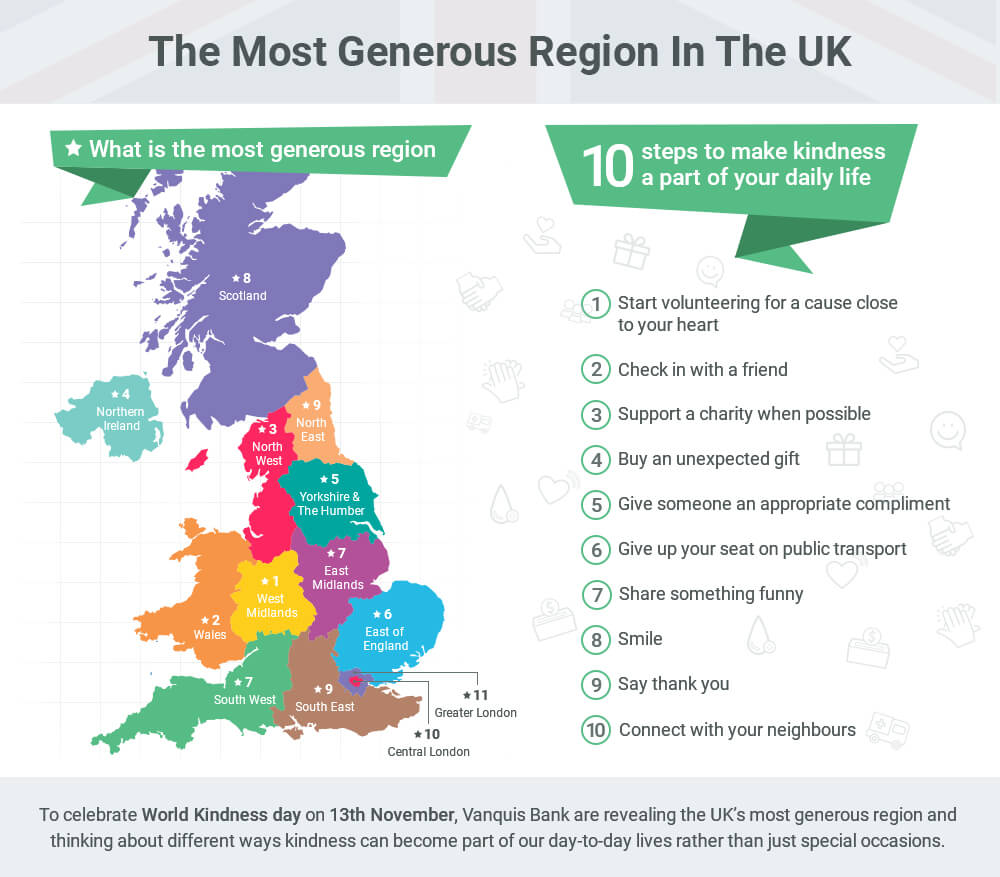 The West Midlands were revealed as the most generous region in the UK with 15% spending money on their family ahead of themselves. Just 2% of the nation stated they pamper themselves before all other non-essential purchases.
It's a sad story for anyone living in London, with both Central and Greater London ranking poorly for generosity, with the money instead being spent on eating out, shopping and travelling.
There is never a situation that doesn't call for a degree of kindness, and with World Kindness Day on 13th November Vanquis Bank want to highlight how easy it is to make part of our day-to-day life.
Here are 10 effortless ways to make kindness part of every day:
1) Start volunteering for a cause close to your heart
There are many ways that you can support causes or issues close to you heart, from financial donations to volunteering your time and efforts.
2) Check in with a friend
We've recently had Mental Health Awareness Day, which is a great reminder to check in on those around you. If you know someone is going through a challenging time, reach out to them and ask how you can support them as a friend.
3) Support a charity when possible
Sober October inspired many to ditch the booze for a month and give the money saved to charity. Why not choose something to abstain from and donate the money to a charity instead?
4) Buy someone an unexpected gift
Next time you are buying yourself a coffee or snack, why not pay for the person behind you in the queue as well? This can be done anonymously, and it'll really make a difference to someone's day.
5) Give someone an appropriate compliment
Even the smallest piece of praise can make someone's day, so why not let someone know how much you appreciate them, what a great job they've done at work or perhaps even something you admire about them?
6) Give up your seat on public transport
When on your commute to work or simply travelling around, give up your seat to an elderly person, pregnant woman or someone who might have trouble standing during the journey. The small act of kindness will be greatly received.
7) Share something funny
You never know when someone could use a good laugh, share something funny via your social media, send it to friends or family members. Something as simple as a quick laugh can brighten their day.
8) Smile
We're so used to being on our phones that we often forget to notice the people around us. A simple smile or greeting can lighten a person's mood.
9) Say thank you
It's easy to forget to show appreciation, but so valuable when you do. Make a point of thanking bus drivers, waiters and anyone else that you interact with during the day. A small gesture of gratitude can go a long way.
10) Connect with your neighbours
Keep an eye out for your neighbours, say hello, ask if they need anything and pay particular attention to the elderly in your community - they might need help or company.
On World Kindness Day, be kind and make someone's day. It doesn't cost a thing.