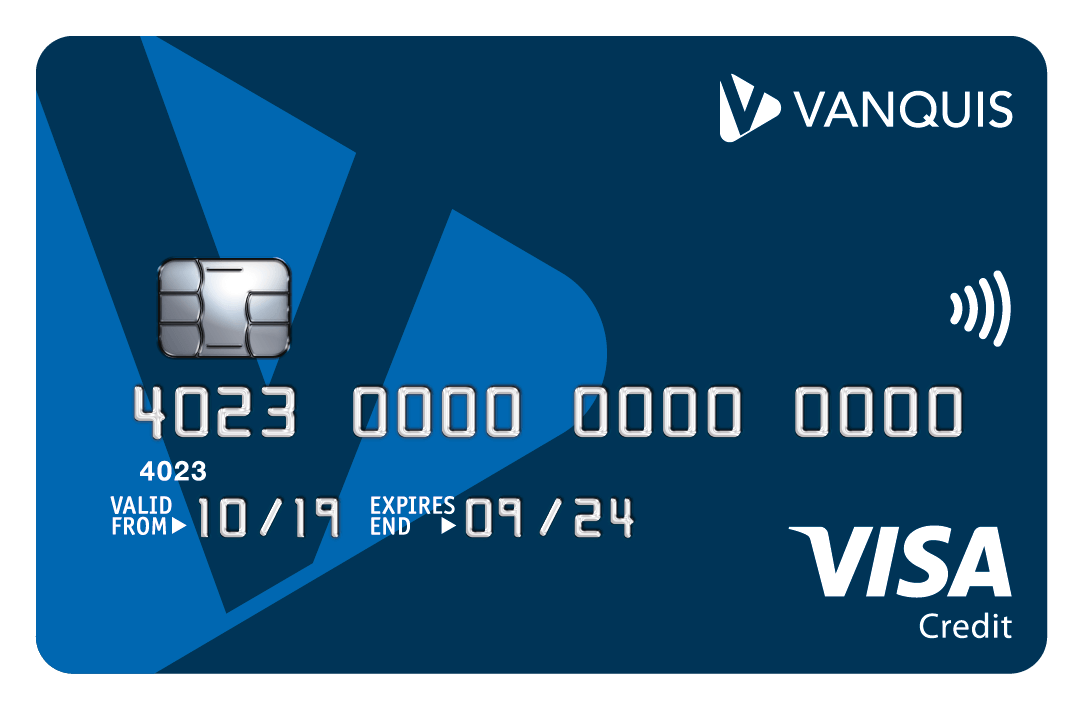 1. Vanquis Classic
Representative 39.9% APR (variable)
Starting credit limit up to £750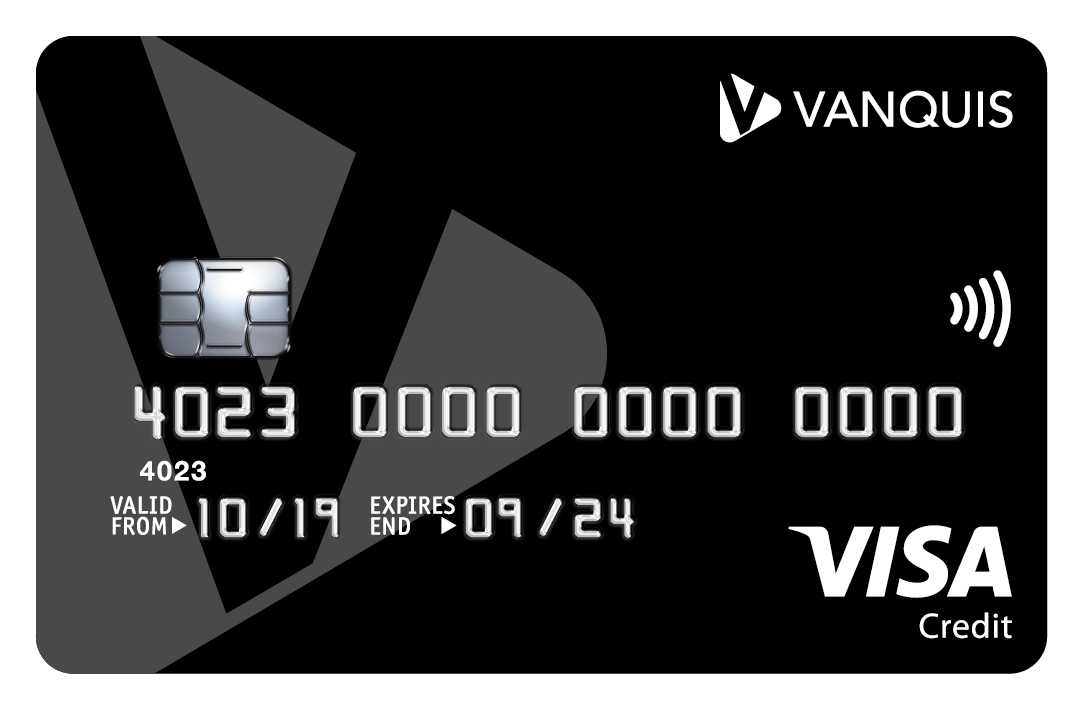 2. Vanquis Chrome
Representative 29.5% APR (variable)
Starting credit limit up to £1,500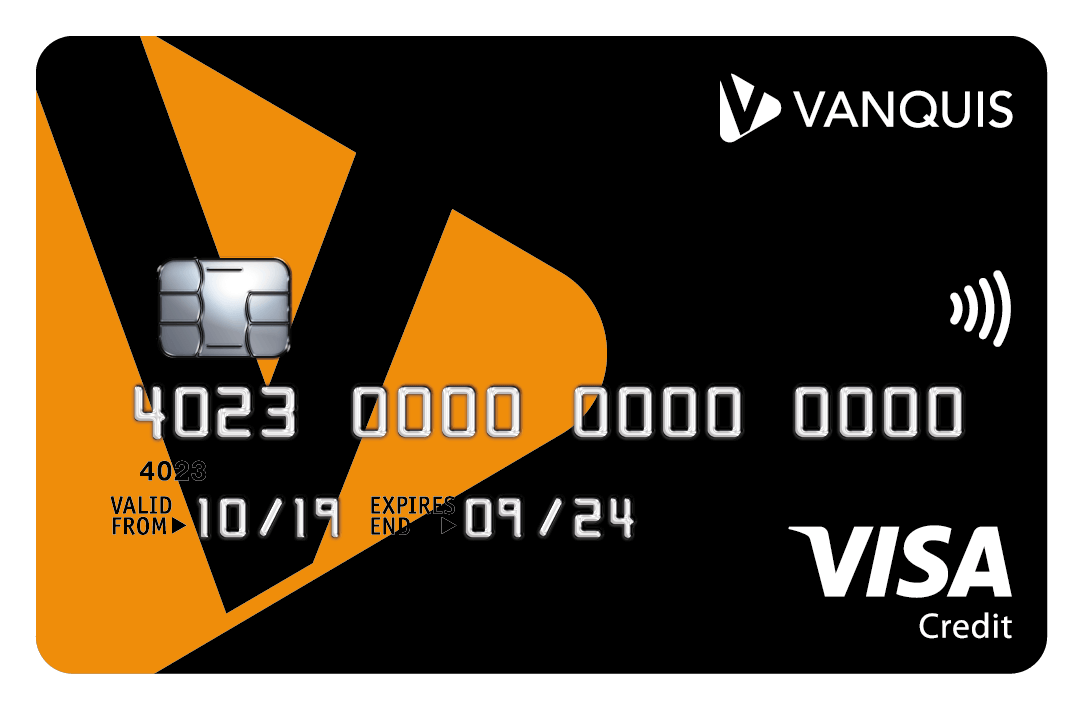 3. Vanquis Origin
Representative 59.9% APR (variable)
Starting credit limit up to £250
With our range of cards we say yes to more people. Start your journey to better credit no matter where you are.
Everyone has a chance to better their everyday life and improve their credit score.
Build your credit score with a Vanquis credit card
If you have bad credit or you are looking to build or maintain your credit, Vanquis can help. Our credit cards for bad credit provide a sensible way for you to stay in control of you money.
When you take on on of our credit builder credit cards, we'll start you of with a low credit limit, to help make sure you can't fall into unmanageable debt. You can make payments via Direct Debit and several other payment methods, and track your spending online with the Vanquis App, to stay in control of your credit.
Building your credit score is based on how well you manage your credit card. Here are some key behaviours which can help on your journey to better credit:
Pay at least the minimum amount off each month – Paying the minimum amount each month means you don't miss a payment and keep up with the terms of your credit agreement. But, if possible, pay off more than the minimum and if affordable the full balance each month, to cut down on the amount of interest you'll pay.
Pay on time – Missing a payment will have a negative impact on your credit score. To make sure you never miss a payment, set up a Direct Debit or other automatic payment for at least the minimum amount.
Don't use all of your credit – Don't use up all your available credit or, if you do, try to pay the balance off in full each month. This will ensure you don't pay any interest on your spending and show lenders you're not over-reliant on credit.
Our credit card range
Vanquis Classic
Representative 39.9% APR (variable)
Starting credit limit up to £750
Vanquis Chrome
Representative 29.5% APR (variable)
Starting credit limit up to £1,500
Vanquis Origin
Representative 59.9% APR (variable)
Starting credit limit up to £250
What is a credit building credit card?
Credit building credit cards are a way of borrowing money if you have a bad credit score or limited credit history and you're looking to improve your credit rating.
Your credit history is used to work out your credit score, and lenders then use this to work out if you're a reliable person to lend money or give credit to.
If you have a bad credit score, you'll find it more difficult to borrow money or get credit. But credit building credit cards are designed specifically for this purpose. Before you apply, it's worth using an express check service, which will give you an idea of how likely you are to be accepted without leaving any trace of a search on your credit file. Although acceptance can never be guaranteed, you have a better chance of your application being approved, regardless of your credit score.
Credit builder credit cards often come with a lower credit limit and a higher annual interest rate but, if used correctly, can offer an effective way to improve your credit score.
How can a Vanquis credit card help to improve your credit rating?
A Vanquis credit card can help you improve your rating by helping you prove to lenders that you can handle credit responsibly. Our credit cards are designed for people who find themselves with a poor credit score, maybe because they've had financial problems in the past, or no credit history as they've never taken out credit before.
Using one of our credit cards correctly and sensibly will show lenders and credit referencing agencies that you are a responsible borrower and, in turn, improve your credit rating. For Vanquis credit cards apply online here
Important
Vanquis Visa Card is only available to UK resident over 18's.
Vanquis Visa Card is issued by Vanquis Bank Limited, No. 1 Godwin Street, Bradford, West Yorkshire BD1 2SU.
How to apply for a Vanquis credit card?
The simplest way to apply for a Vanquis credit card is to go and use our Credit Cards Eligibility Checker – you'll get an instant decision on your eligibility, with no trace of a search left on your credit file
If you're wondering how does a credit card work, it simply gives you a certain amount of credit/money to spend, which you must then pay back on a monthly basis.
Unlike a loan, there is no fixed-term over which you have to pay the money, nor are there any fixed repayment amounts, although you will have to pay a minimum amount each month. But always try to repay more than the minimum amount, as this means you will repay your debt sooner and pay back less in interest.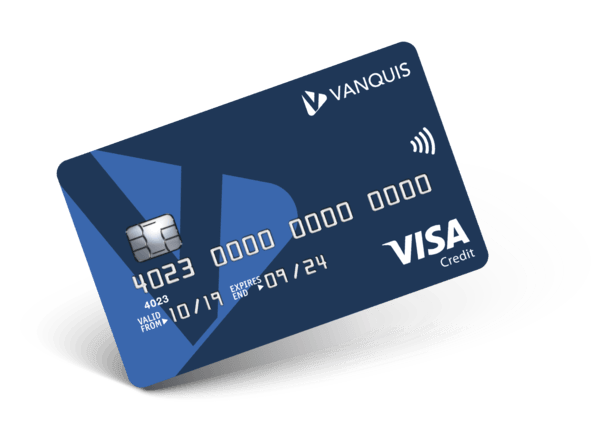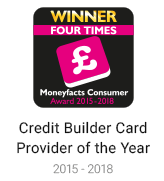 Why should I soft check my credit card eligibility?
When you apply for a credit card online, a trace of your application will be left on your credit file and this can have a negative impact. If you make more than one application for credit in a short space of time this will damage your credit score even further.
This can be particularly problematic for people with poor credit who might be turned down by one lender and immediately apply to another lender.
That's why it makes sense to carry out a 'soft' eligibility check first. Vanquis Bank's Eligibility Checker will give you an instant decision, without leaving a trace on your credit file. If this initial application is approved, we'll then carry out a full credit check which will be recorded on your credit file. Although our Eligibility Checker can't guarantee your application will be approved, if you get a positive response at this stage, there's a good chance we'll lend to you.
Common credit questions
If you're taking out credit for the first time, you may have a number of questions around credit card eligibility, interest rates and repayments. We'll try to answer the most common questions below.
What is APR?
APR stands for Annual Percentage Rate. Shown as a percentage, usually to one decimal point, it represents the cost of borrowing money over a year on a credit card or loan, taking into account interest, as well as other charges you may have to pay such as an annual fee.
You might see the APR advertised as 'representative APR'. This is because credit cards providers often offer different rates depending upon how the card is used and the borrowers' credit score. The representative APR is shown to give you an idea of the interest rate you're likely to pay if you use it for standard purchases, but the rate you finally get might be different.
Credit builder credit cards usually come with a higher APR than credit cards available for those with a good credit score.
How will it improve my credit rating?
Each time you use your credit card and make repayments on time, this leaves a positive mark on your credit file, which ultimately helps to improve your credit rating. On the flip side, if you overspend on your card or miss repayments, this will leave a negative mark that will lower your credit score.
A credit card application will also affect your credit score, that's why you should only ever apply for a card that's suited to your circumstances, and avoid making multiple applications within a six month period.
What is bad credit?
Bad credit is when you have handled credit poorly, by overspending or missing repayments, which in turn damages your credit score and gives you a bad credit profile.
What is a credit score?
A credit score is a number that lenders use to decide whether they'll lend to you and, if so, what type of credit they'll offer. Your credit score is worked out by using data from a credit reference agency alongside other information such as employment status, the type of credit you're applying for, the amount of applications you've made recently, the amount of credit you currently have and how you are managing it.
In general, the better your credit score, the lower the interest rate will be on your borrowing. People with higher credit scores also have a higher chance of acceptance for cards that offer 0% balance transfers, interest-free purchases and cashback offers.
What information do I need for my credit card application?
To apply via the Vanquis online Eligibility Checker, you'll need to give us the following information:
Name
Address
Date of birth
Residential status
Time at your current address
Contact details
Employment status
Salary
Monthly income and expenditure
If you pass the initial eligibility check, we'll then need address information for the past three years, alongside your bank account and debit card details. You'll also need to confirm that you are aged 18 or over, a UK resident, not bankrupt, and agree to a full credit check.
How do I check my eligibility?
To check your eligibility for a Vanquis credit builder credit card, use our Eligibility Checker – this will give you an instant initial decision, without leaving any trace of a search on your credit file.
Borrowing with a Credit Card
When borrowing with a credit card, you need to make sure you stick to the terms of your credit agreement, which means not going over your credit limit and always making at least the minimum monthly repayment on time
To make the most of borrowing with a credit card, and improve your chances of increasing your credit score, you should try to keep below the limit you've been given. For instance, if you have a limit of £1,000 and you've used £500 of that, your utilisation will be 50% of your limit.
For more information about applying for a credit card with us, go to Check Eligibility
Borrowing with a Credit Card
Is a credit card suitable for me?
A credit card gives you the flexibility to make repayments to suit your monthly expenditure. In a month when money may be short and you need to meet other expenses, for example, an unexpected bill, you could pay the minimum payment on your card for the following month.
Before you make purchases on a credit card, always think about whether you can afford at least the minimum payment. We would recommend that you can afford more than the minimum payment. If you can only make the minimum payment each month, you should think about whether a credit card is really suitable for you.
A credit card is not suitable for long term borrowing. If you are looking to purchase a large item and repay over a longer period of time a personal loan may be more suitable.
A credit card has facilities that make it more flexible than cash, cheques and debit cards when making purchases. It is a safer way to purchase goods than carrying cash. In today's world it is almost a necessity to be able to purchase goods online to get the best deals and more conveniently shop around. When travelling, hotels and car hire companies require you have a card to secure a deposit. If you require cash, it is more expensive to take cash out on your credit card.
What does a credit card do?
You can use your card anywhere to purchase goods or services whether on the high street or online in the UK or anywhere in the World, wherever the Visa symbol is displayed. You can also use your card in an ATM to take out cash either in the UK or abroad. A credit card allows you to purchase goods or services immediately, provided that you have enough available credit on your card for the purchase. You will receive statements showing your transactions, fees, charges and any payments. You will have to pay at least the minimum payment by the date which will be shown on your statement.
How long do I have access to the credit?
Provided you meet at least the minimum payment on time each month, and stay within your credit limit, you will have continued access to the credit we provide to you.
We will always reserve the right to decrease your credit limit dependent upon how you use your card and your financial circumstances, including any other credit facilities you may have with other lenders.
We also reserve the right to close your account and if we do this we will always give you at least two months' written notice. Please refer to the terms and conditions of your account for further information on when or why this might happen.
How much will you lend to me?
When opening your account, credit limits start at £150 and will be no more than £1,500, depending on your credit history, financial circumstances and how you are managing your current credit facilities with other lenders.
Shortly after opening your account, we will write to tell you what your credit limit is. Depending on how you manage your account and credit with other lenders, this amount may change, and we will tell you if it does.
How much will it cost me?
Cost of Borrowing - Interest Explained - based on 39.9% APR for a purchase of £250.
To reduce the interest charged, we recommend you pay as much as you can, when you can and not just the minimum payment. See the example below.
Illustrative example
For a purchase of £250 on your credit card
Monthly Payment
Minimum Payment each month
£50 each month
Without taking into account any introductory rates, how much interest will you be charged in the first year?
£74
£27
How much interest will you be charged in the second year?
£50
£0
How long would it take to clear the balance?
3 years, 2 months
7 months
The above example assumes the following: The transaction takes place on 1st January and you make no further transactions. Your statement is produced on the 1st of each month and you always make the payment each month on the 15th. Your statement is produced 31 days after you make the purchase.
If you can only make the minimum payment each month, it will take you longer and cost you more to clear your balance.
To reduce the amount of interest charged, we recommend you pay as much as you can, when you can and not just the minimum payment.
What is Repayment Option Plan?
Repayment Option Plan only applies to you if you were opted into the Plan before 19th April 2016. It is an optional part of your account with a monthly charge, with 3 features, designed to help you build or rebuild your credit. Click here to find out more.
Your application
I've been turned down before, will that affect your decision?
Not necessarily. Your credit history needn't mean you get turned down. Applications are considered on merit and we'll still consider you if you've been turned down in the past.
How can I apply?
Will I be charged for applying for a Vanquis Visa credit card?
No, it costs nothing to apply, and if accepted there is no annual fee.
How long will it take to get a response?
If you apply online you should get a response within one minute. If we need to talk to you about your application, we'll normally call you within 15 minutes of your application being submitted. If we can't speak to you then, we'll continue to call you over the next weeks.
If you reply by post to a direct mail application and we need to speak to you about your application, we will call you.
For most accepted customers, we're able to tell you over the phone that you've been accepted. Normally all applicants will receive a decision within 28 days of submitting their application.
How do you work out my interest rate?
We use risk based pricing and when you apply to us we assess the information on your application form and any information we have on your credit history from credit reference agencies.
Confirming your identity
Sometimes when opening an account with us, we may ask you to confirm your identity. We do this through our trusted security partner HooYu. HooYu use an encrypted connection to keep your data secure. They delete all copies of your documents as soon as the identity check is done.
Why HooYu?
HooYu can quickly and securely verify people from all over the world using digital footprints, ID document authentication and facial bio-metrics. It's not only safer, it also speeds up the application process meaning your account is opened faster.
What happens if I'm accepted?
We'll send you your card and Welcome pack to your home address. You'll need to call us to activate your card.
What if I change my mind? Can I cancel my credit card and how long do I have to do that?
After applying and receiving your credit limit, if you change your mind, you have 15 days to withdraw from your credit card agreement with us and cancel the card. You can do this by phone or in writing. You will have to repay us any credit and interest outstanding on your balance within 30 days. Interest will be charged for each day between the credit being drawn down and repaid. At any time, you can ask to close your account. To do so you must repay us any credit, interest and unpaid fees and charges outstanding on your account.
Please refer to your terms and conditions for more information on how you do this.
How long will it take between applying for a Vanquis Visa credit card and receiving one?
It usually takes between 10-14 days from you submitting your application, but if we need to contact you for more information it could take longer. Your PIN (Personal Identification Number) will arrive separately in the post.
How do I find out why you turned me down for a card?
As a responsible lender, we take into account your financial circumstances to establish the appropriate level of credit to grant you. To help us do this, applications may be assessed using a process called credit scoring which assesses credit stability and ability to pay. Credit scoring produces consistent decisions and is designed to ensure all applicants are treated fairly.
If we have declined you, this is based on the information we have obtained and the way this information is used in our credit scoring system.
If you would like us to reconsider our decision, you can write to us at New Accounts Department, P.O. Box 399, Chatham, Kent, ME4 4WQ and provide us with any additional information that you consider relevant. You have the right under the General Data Protection Regulation 2018 and Consumer Credit Act 1974 to see information held about you.