Why a Vanquis credit card is the right choice
You have bad credit or want to build your credit score
Easy to manage credit limit of £150 - £1,000
Credit limit could increase up to a total of £4,000
Representative 39.9% APR (variable)
Simple four step application process, get an initial indication in 60 seconds
Follow up call in 15 minutes on average
Award winning UK customer service
Online and app account management
Receive text alerts to keep track of your repayments
When applying, we'll assess your personal situation and won't just turn you away based on your past, even if you've been turned down before. Bad credit can be overcome and a Vanquis credit card can help you on your journey to a better credit rating.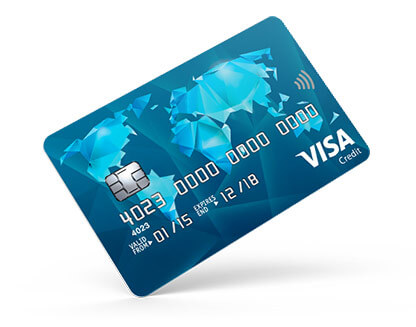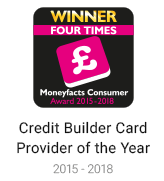 Example Purchase
Monthly Repayment
Total Annual Interest
Max. Repayment Period
Interest rate
(Using

Vanquis Credit Card

)
(Minimum payment)
(Without taking into account any introductory rates)
(Duration to clear the balance)
(Terms and conditions apply)
£250

£

10

£

74

38

months

39.9

% APR
Read our Vanquis Card Summary Box for full details
A Vanquis credit card can help you improve your credit rating
Using a credit card can help people with bad credit improve their credit rating. We've already helped more than 3.5 million people do exactly that. Watch our credit builder video for simple advice on how to start building your credit score today. Everyone's situation is different, read our understanding credit page to see how a Vanquis credit card can help your personal circumstances.
How to apply for a Vanquis credit card
Check if your credit is approved in four simple steps, with no risk to your credit score
Get a response in 60 seconds
If accepted, apply and wait for your Welcome Pack to arrive
How to build your credit rating with a Vanquis credit card
Use your Vanquis credit card
Stay within your credit limit
Repay at least the minimum amount each month, ideally more
Only take on debt you can afford
Missing a payment can harm your credit rating
IMPORTANT
Vanquis Visa Card is only available to UK residents over 18.
Vanquis Visa Card is issued by Vanquis Bank Limited, No. 1 Godwin Street, Bradford, West Yorkshire BD1 2SU.
How it will improve my credit rating?
To build your credit rating and potentially be eligible for credit limit increases, use your card sensibly by making your monthly minimum payment on time and staying within your credit limit. Not doing so could harm your credit rating.
What is a credit score?
A credit score or rating is how lenders decide whether you are suitable to borrow money. Essentially it is a measure of how likely you are to pay back the money. Multiple factors are considered when determining a credit score, such as payment history, past debt and length of your credit history. These are checked by credit reference agencies TransUnion (formerly Callcredit), Experian and Equifax. The higher your credit score the more likely it is that you'll be accepted for a credit application.
What is bad credit?
Bad credit is when an individual has a low credit score. This is often the result of past debt or failing to meet repayments on credit agreements. Having bad credit doesn't mean you won't be accepted for credit in the future. A Vanquis credit card could help you improve your credit rating. For more information on bad credit, read Vanquis' dedicated credit card for bad credit page.
How do I check my eligibility?
Vanquis offers a risk free credit card eligibility check that will give you a response in just 60 seconds.
Most Popular
How can I make a payment to my account?
You can make as many individual payments before your 'Payment to Reach Us By' date, so long as the total payments are at least equal to the Minimum Payment Due printed on your monthly statement. You can always pay more than the minimum amount, and remember the more you pay, the quicker your balance reduces and you'll pay less interest.
Debit Card Payments
You can make payments using your debit card, however you need to allow 2 working days for your payment to clear into your account.
Please see Vanquis Online Banking for details on how to log on and make a payment online. You can make a payment by selecting the 'Payments' tab or by clicking 'make a payment' on the account summary page.
Vanquis Bank App
Sign in to the Vanquis Bank App. Select the 'Make a Payment' and follow the instructions on screen.
Please visit www.vanquis.co.uk. Click on the 'Pay my card' icon. You do not need to be registered for eVanquis to use this service.
Phone Vanquis on 0330 099 3000, you can make a one off payment with a Debit Card or set up a Direct Debit for regular payments or set up a Continuous Payment Authority (for more details see our response to 'What is a Continuous Payment Authority and how do I set one up?').Please click here for opening hours and call charge information.
Internet or Telephone Banking
Via your bank's telephone or internet banking service, you can make a one off payment or set up a standing order. Simply quote the following details: (1) Our sort code: 60-95-94, (2) Our bank account number: 0000 0001 and (3) Your Vanquis 16 digit card account number.
Most banks offer the Faster Payments service. Payments made by this method and received by Vanquis before 5pm on a working day will be applied to your account on the same day. However you need to allow 2 working days for your payment to appear on your account. Payments received after 5pm will be applied to your account the next working day. Working days are Monday to Friday, excluding weekends and Bank Holidays
Over the Counter
Over the counter at your Bank or Post Office, using your pre-printed giro (found at the bottom of your monthly statement).
If you are paying by cheque or postal order make them payable to 'Vanquis Bank' followed by your 16 digit Vanquis Visa credit card number. On the back, write your name and Vanquis Visa credit card number.
Some banks or Post Offices charge a handling fee. Please check with the counter agent. Please allow 5 working days for your payment to reach your account via this method. Please note that payments made over the post office counter can, in some instances, take up to 20 working days to clear.
By Post
By posting a cheque or postal order, together with your pre-printed giro (found at the bottom of your monthly statement) in one of our pre-paid envelopes. Please make cheques payable to 'Vanquis Bank' followed by your 16 digit Vanquis Visa credit card number. Write your name and Vanquis Visa credit card account number on the back of the cheque or postal order. Please note, we normally recommend allowing 7 working days for your payment to reach your account via this method. PLEASE DO NOT SEND CASH OR POST-DATED CHEQUES AS THESE CANNOT BE ACCEPTED.
Please remember to always make your payments in good time to make sure they reach your account by the Due Date. We recommend you pay early to avoid possible late charges and maintain your credit record.
Direct Debit
You can set up a monthly Direct Debit for the minimum payment due, a fixed amount or the full outstanding balance. Call us on 0330 099 3000* to arrange. Direct Debit payments are claimed on your payment due date.
Important Information - DIRECT DEBIT PAYMENTS
As with all Direct Debit payments, we request your automatic payment 3 working days before it leaves your current account. Any additional payments you make in this period will have no effect on the amount we have already requested from your Bank.
Minimum or Fixed Payment amount Direct Debit
If you choose to make additional payments, your Direct Debit will still collect unless your statement balance is cleared in full.
Fixed amount Direct Debit
If you have a fixed amount Direct Debit it means you pay the same amount each month. However, if the fixed amount is not enough to cover your minimum payment we will take the outstanding minimum payment amount. If your statement balance is lower than your fixed amount we will only claim the balance on your statement to avoid your account going into credit.
What if I change my mind? Can I cancel my credit card and how long do I have to do that?
After applying and receiving your credit limit, if you change your mind, you have 15 days to withdraw from your credit card agreement with us and cancel the card. You can do this by phone or in writing. You will have to repay us any credit and interest outstanding on your balance within 30 days. Interest will be charged for each day between the credit being drawn down and repaid. At any time, you can ask to close your account. To do so you must repay us any credit, interest and unpaid fees and charges outstanding on your account.
Please refer to your terms and conditions for more information on how you do this.
How often do you change my interest rate?
We will not increase your interest rates within the first year as a result of risk based re-pricing. This means your interest rates would only increase within the first year because of, for example, changes in the economy which lead to a change in the base lending rate.
If we do increase your interest rate we will not do so more than once every six months.
When we tell you about an increase in your interest rates, we will explain in clear language how it is changing, what it will cost and the options available to you.
If you ask, we will give you information on how and why we have changed your interest rate.
Can I use my new contactless card immediately?
With your new card you'll need to complete a Chip and PIN transaction before you can make a contactless payment. This is an extra security step to ensure your card is in your hands and not someone else's.
Why might my interest rates change?
When you borrow money on a credit card, the credit is 'unsecured' because it's not linked to your property; and 'open ended' because the account is not set to last for a specific length of time. This means that we face more risk than other types of credit product, such as personal loans and mortgages. Also, your financial circumstances can change over time, which means there may be a higher risk that you will not be able to pay back the money you have borrowed.
Changing the interest rates allows us to respond to expected changes in: the economy; the cost of providing credit; and your financial circumstances.
If we didn't adjust interest rates in this way, we might have to take your card away, or you may have to pay new charges.
If the soft credit search reveals that I can apply for a Vanquis Visa credit card, does that mean I will definitely be approved?
Once you submit the 'soft credit search' form we will carry out some necessary checks and give you a response in 60 seconds. There is a chance that we may not be able to open your credit account if (a) we are unable to successfully complete affordability, fraud and money laundering checks or our Welcome Call (this is the telephone call we need to make to you to complete the application process); (b) if you change any of your information provided to us; and (c) in some cases we may also require Direct Debit details. Also remember that credit is subject to: status; telephone contact; confirmation of name and address; not already holding a credit card issued by Vanquis Bank; no reasonable suspicion of fraud, and is only available to UK residents who are at least 18 years of age and are not legally restricted from obtaining credit e.g. because of bankruptcy.
What impact does "ring-fencing" have on me?
You do not need to take any action unless you are contacted by your bank. If you are affected by the changes, your bank will tell you how, when the changes take place and whether you need to do anything.
Customers of different banks may be affected in different ways. Even similar customers of the same bank may be affected in different ways.
Some bank customers will experience changes to their account details. For example, some customers may receive a new sort code or a new account number. If you are affected in this way, your bank will ensure that any outgoing payments, for example standing orders and Direct Debits, are made as normal. Your bank will also redirect to your new account details any incoming payments made to your old account details.
All bank customers should remain alert to the possibility of fraud.
It is recommended that customers:
Treat all letters, phone calls, emails and text messages with caution. Don't assume they are genuine, even if the person seems to know some basic information about you.
Do not give out your account or card details or make changes to payments unless you are certain who you are dealing with.
A genuine bank or organisation will never contact you out of the blue to ask for your PIN, full password or to move money to another account. Only give out your personal or financial details to use a service that you have given your consent to, that you trust and that you are expecting to be contacted by.
Don't be rushed or pressured into making a decision or acting quickly. A genuine bank or other organisation won't mind waiting if you want time to think.
If you have any doubts at all about what you are being asked to do, check with your bank. Always use contact details you can trust, for example the phone number on your bank statement, rather than any details provided in the communication in question.
What's my right to withdraw?
Once you have applied and before acceptance of your application, you can withdraw it by sending WRITTEN notice to: Vanquis Card, Customer Services, P.O. Box 399, Chatham ME4 4WQ or by telephoning 0330 099 3000. Please click here for opening hours and call charge information. Once your application is accepted you will have a further short time to cancel the agreement. For more details see our response to 'What if I change my mind? Can I cancel my card and how long do I have to do that?'.
Can I increase my credit limit?
As a responsible lender, Vanquis Bank will seek to provide you with a credit limit that reflects your needs and your ability to manage your account. To be considered for a credit limit increase, you should make use of your credit limit without going overlimit and make your payments on time. By using your credit limit and keeping your account in order, you demonstrate to us that you can manage your account well and can handle the monthly repayments.
Please also keep your other accounts such as credit cards, loans, catalogues, mobile phone and mortgages in order and don't take on too much debt elsewhere. Please remember, meeting these criteria does not guarantee you a credit limit increase.
How can I get a PIN reminder or a new PIN?