Personal Loans
A personal loan gives you flexibility to borrow a lump sum and pay it back over a fixed period with regular monthly payments. If approved, you get the cash within 3 days.
We offer personal loans between £1000 - £5000. You can spread out your repayments over 12 - 36 months. Personal loans allow you to cover large costs, like furniture, household appliances, educational or home improvements, at one time.
Who can get one?
Currently we only offer loans to eligible Vanquis customers. If you're not a Vanquis customer, fear not! We're working on making our loans available to more people. Check this space for updates.
If you're eligible, we'll contact you via email, SMS or in the Vanquis mobile app. Here's what you can expect when we offer you a loan:
Simple and straightforward online application
No hidden charges or fees, ever
No impact to your credit score if declined
You can also call to check your eligibility and receive a link to your online application. Give us a ring on 0333 003 5802*.
To see what other offers may be available to you, download the Vanquis mobile app.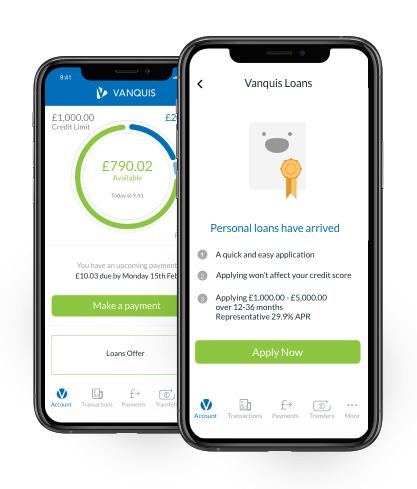 Already a Loans customer?
Our team makes managing your loan easy. Make additional payments, check your balance, or get some extra support if you're struggling to pay – just give us a ring and we'll be happy to help.
Keep an eye out for the new Vanquis mobile app updates too – where new loans customers will be able to manage both their loan and credit card all in one place.
For full terms and conditions, please click here.
*Call charge information
Network charges may apply. Calls to 01 and 03 numbers from UK landlines and mobiles are normally included in free plan minutes if available; otherwise calls to 03 numbers cost the same as calls to 01/02 prefix numbers. Calls to 0800 or 0808 numbers are free from mobiles and landlines.