Managing your account made quick and easy.
It is easy to manage your account if you're already a Vanquis App customer. With your Vanquis App check your balance, transactions or statements. Need to make a payment? You can set up and manage your Direct Debit or make quick debit card payments. All this and more in your Vanquis App, no need to call.
You can also use Vanquis Online Banking. Where you can check your account summary and make payments.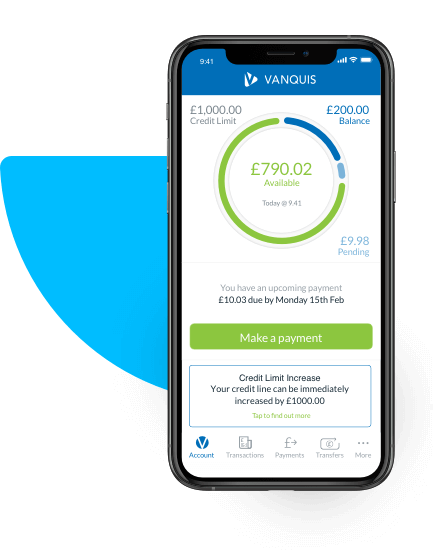 Frequently asked questions
Here in our FAQ's you can find the answer to your query by searching popular articles which we have split into defined categories to make your search simpler. Topics includes your card account, making payments, transactions, personal loan support and much more.
Looking for something different? Below we have information on specific services as well as what to do if you need help and support.
My card was lost or stolen
Report your card using the Vanquis App.
Open your app and go to the 'More' tab
Choose 'Manage My Card' and report your card lost or stolen
You can also call us on 0800 783 9003* (inside UK) or +44 161 444 4495* (outside UK). Open 24 hours a day
I'm worried about my finances
We're always here to help! Give us a call on 0330 099 3002*
Monday to Friday
Saturday
          8:30am - 7:00pm
          9:00am - 4:00pm
I have questions about Loans
Ask about your loan or if you're eligible for one. Call our Loans team on 0333 003 5803*.
Monday to Friday
Saturday
          8:30am - 7:00pm
          9:00am - 4:00pm
You can manage your account 24/7 using the Vanquis App but for general enquires check out our FAQs. Still need to speak to us ring on our Customer Service line: 0330 099 3000*.
Opening hours
Monday to Friday
Saturday
Sunday
          8:30am - 7:00pm
          9:00am - 4:00pm
          CLOSED
You can also find other useful numbers on our telephone numbers page.