What is Persistent Debt?
Our regulator, the Financial Conduct Authority (FCA) introduced rules in 2018 to support customers and help them avoid being in problematic debt.
To be classified as being in Persistent Debt, over the previous 18 months, you have paid more in interest and charges than you will have repaid towards the amount borrowed.
How will I know if I'm in Persistent Debt?
We will contact you if you are in Persistent Debt or you might be at risk of moving into Persistent Debt. We will include suggestions on how you can get out of Persistent Debt and how we can help.
What can I do differently?
We encourage you to pay a little more, no matter how small as long as it's affordable for you to do so. By doing this you will reduce your balance quicker and pay less interest. You can do this by setting up a Direct Debit or Continuous Payment Authority (CPA). This can be done within the Vanquis App.
Find out more about your payment options.
What happens if I stay in Persistent Debt?
As part of the rules from our regulator, the FCA, if you're unable to increase your payments, we will need to talk to you about what your options are to repay your debt within a reasonable period of time to avoid you staying in Persistent Debt. This could include steps such as agreeing an affordable repayment plan or potentially suspending your card to help you to reduce your balance.
We would encourage you to try and start paying more on your account as soon as you can, this could help you pay less interest and pay off your outstanding balance sooner.
How can I make sure I stay out of Persistent Debt?
The best way to stay out of Persistent Debt is to start paying more on your account as soon as you can.
We'd suggest you pay at least a fixed percentage of your statement balance each month. This can easily be set up and managed with a Direct Debit or Continuous Payment Authority. The fixed percentage varies depending on the APR that you pay on your card and this is shown below.
If you wish to speak to a member of the team about staying out of Persistent Debt, please contact us.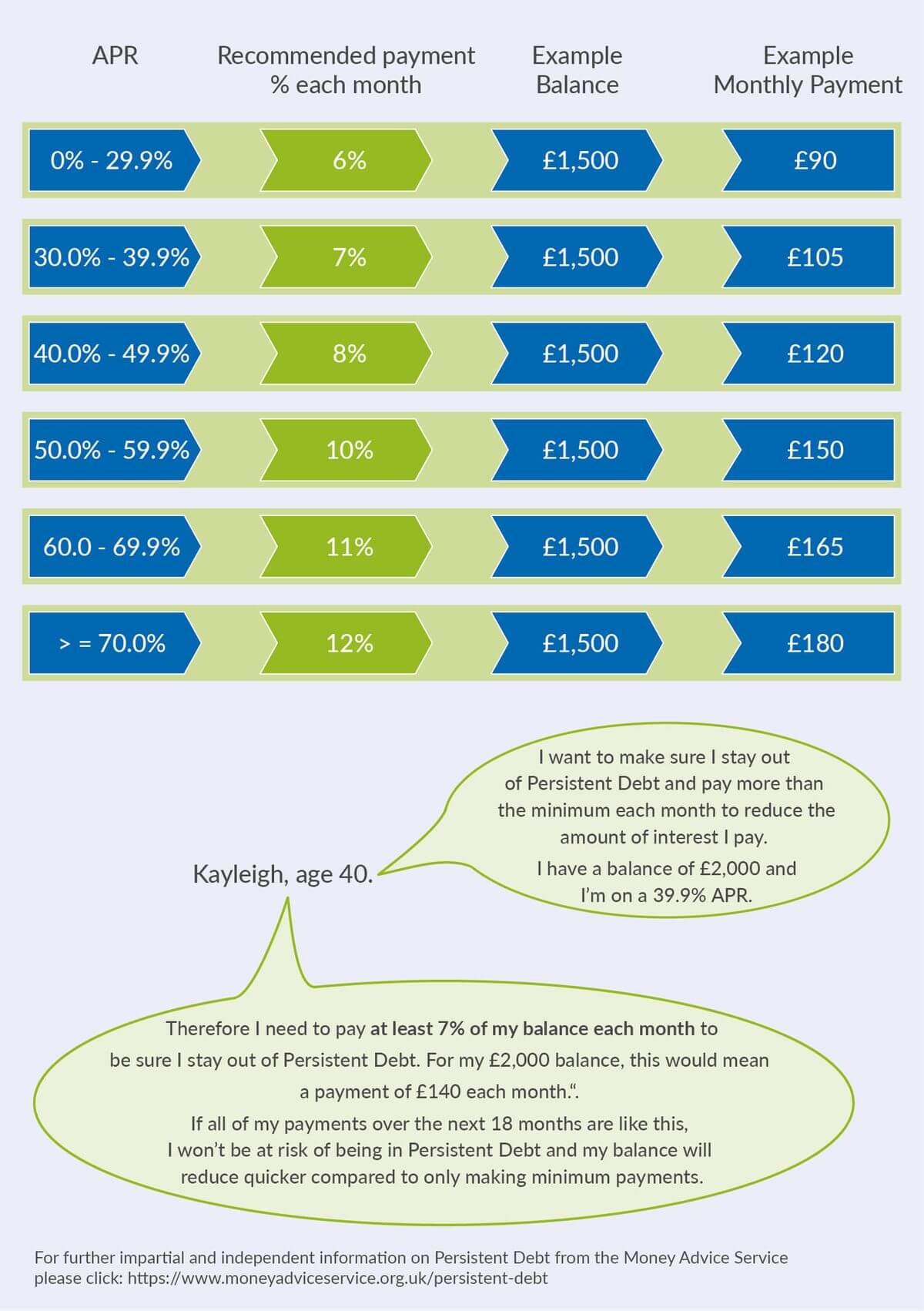 Help and support
If at any time you think you may have a problem with making payment, please call us on 0330 099 3127*, our team are here to listen and understand and will be sensitive to your individual circumstance.
If you'd rather speak to someone independent, you could contact a non-profit debt-counselling organisation for support and advice, these include:
Money Advice Service - 0300 500 5000
National Debtline - 0808 808 4000
StepChange Debt Charity - 0800 107 9613
Calls to 03 numbers from UK landlines and mobiles are normally included in free plan minutes if available; otherwise they cost the same as calls to 01/02 prefix numbers. Information correct as June 2018. Lines are open Monday to Friday 8am to 8pm and 9:00am to 5:30pm on Saturday.