Recommended Payment
What is a Recommended Payment?
From time to time, we might provide you with information about a Recommended Payment level. This is a payment level set above your contractual minimum payment amount and there is no obligation to pay this higher level. It is set at a level to support you getting out of, or staying out of Persistent Debt.
You must still pay at least your minimum payment due each month to avoid late fees.
Why are we suggesting a customer pays a Recommend Payment?
We are suggesting a Recommended Payment to support paying your balance back quicker and save on overall interest paid. You should only make payments above your minimum where it's affordable to you. There is no obligation to make above minimum payments, but you will pay more interest and pay your balance back slower by making only minimum payments compared to the Recommended Payment.
What are the benefits of making a Recommended Payment?
By making the recommended payment instead of a minimum payment, you will reduce your balance quicker and pay less interest. This means that you can pay back your Vanquis balance quicker than if you just make minimum payments. We are simply suggesting a level we feel could be appropriate.
What if I can't afford the Recommend Payment? (Is the Recommended Payment required to be paid?)
There is no obligation to make any payments above the minimum. The recommended payment is purely a level suggested to you. Even making the Recommended Payment as and when you can during the year will help. If making minimum payments is becoming difficult, please ring us on 0330 099 3000 to discuss your situation.
What if I can afford more than the Recommended Payment level?
Great! You're welcome to pay back whatever level (above the minimum amounts but no more than your full balance) you like. Paying more will reduce the overall interest you pay and allow you to reduce your balance quicker. Please see your statement about the range of ways you can make a payment.
How much would I save if I pay Recommend Payment (in interest)?
The amount you can save on interest is specific to each person and their individual situation. The below shows an example savings in interest for a typical Vanquis customers if they consistently make the Recommended Payment instead of the Minimum Payment until their balance was paid off (assuming no further spending occurred to increase your balance).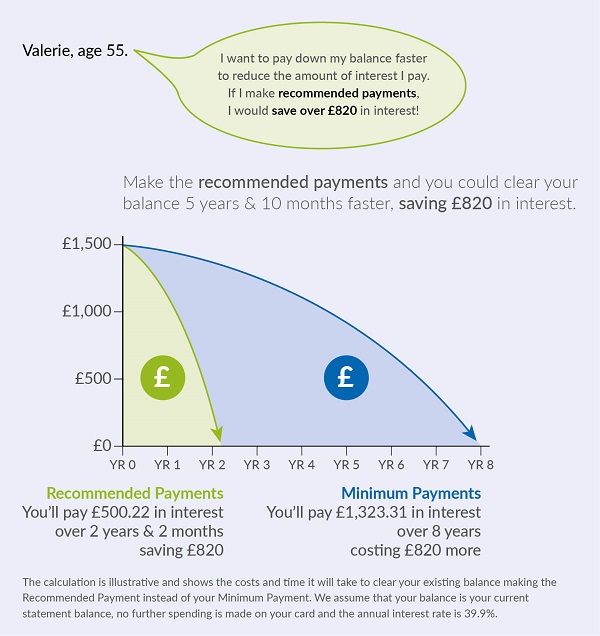 Help and support
If at any time you think you may have a problem with making payment, please call us on 0330 099 3127*, our team are here to listen and understand and will be sensitive to your individual circumstance.
If you'd rather speak to someone independent, you could contact a non-profit debt-counselling organisation for support and advice, these include:
Money Advice Service - 0300 500 5000
National Debtline - 0808 808 4000
StepChange Debt Charity - 0800 107 9613
Calls to 03 numbers from UK landlines and mobiles are normally included in free plan minutes if available; otherwise they cost the same as calls to 01/02 prefix numbers. Information correct as June 2018. Lines are open Monday to Friday 8am to 8pm and 9:00am to 5:30pm on Saturday.