We're pleased to announce that for the fourth year running (2018) Vanquis Bank has won the Moneyfacts Consumer Award for Credit Builder Card Provider of the Year.
We're extremely grateful for the recognition of all the hard work we do here at Vanquis Bank to provide the best experience for our customers.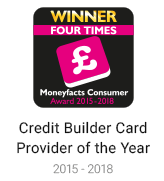 Our Awards
The Moneyfacts Consumer Awards are totally independent and the awards are presented annually within the financial services industry for product excellence and outstanding service.
The UK's millions of financial services customers can use the awards as a way of voicing their opinions on products and services provided to them. The Moneyfacts Consumer Award winners are chosen based on feedback from customer surveys along with the help of specialists to decide the 'best in class' providers.
Being named Credit Builder Card Provider of the Year means we're able to add this new award to the list of awards that we've won over the years.
Awards Record
2020 – Moneyfacts Consumer Awards – Credit Card App of the Year - WINNER
2020 – Moneyfacts Consumer Awards – Credit Builder Card Provider of the Year - HIGHLY COMMENDED
2018 – Savings Champion Awards – Best Long Term Fixed Rate Bond Provider - WINNER
2018 – Moneyfacts Consumer Awards – Credit Builder Credit Card Provider of the Year - WINNER
2017 – Moneyfacts Consumer Awards – Credit Builder Credit Card Provider of the Year - WINNER
2017 – Savings Champion Awards – Best Long Term Fixed Rate Bond Provider - WINNER
2017 – Savings Champion Awards – Best Fixed Rate Bond Provider - HIGHLY COMMENDED
2016 – Moneyfacts Consumer Awards – Credit Builder Card Provider of the Year - WINNER
2016 – Credit Today Awards – Best Anti-Fraud & Verification Technology (in conjunction with GB Group) - WINNER
2015 – Savings Champion Awards – Best Fixed Rate Bond Provider - HIGHLY COMMENDED
2015 – Moneyfacts Consumer Awards – Credit Builder Card Provider of the Year - WINNER
2015 – Moneyfacts Consumer Awards – Online Savings Provider of the Year – COMMENDED
2014 – Savings Champion Awards – Best Fixed Rate Bond Provider - HIGHLY COMMENDED
2014 – Moneyfacts Consumer Awards – Best Fixed Rate Account Provider – HIGHLY COMMENDED
2012 – The Card & Payments Awards – Best Technology Initiative of the Year - WINNER
2012 – Credit Today Awards – Credit Card Provider of the Year - WINNER
2011 – Credit Today Awards – Credit Card Provider of the Year - WINNER
2010 – Credit Today Awards – Credit Card Provider of the Year - WINNER
2009 – Credit Today Awards – Credit Card Provider of the Year - WINNER