Even if you haven't already felt it yourself, there's a good chance that you've heard about the cost of living crisis happening in the UK right now. In this article, we'll explain why costs are increasing and how this might affect you. You can work out how the rise in costs could impact you, by jumping straight to our cost of living calculator.
Our calculator also includes tips to help reduce the impact that the cost of living increase has on your finances.
Calculate your own cost of living impact
We know that lots of people are starting to look at the rise in prices and the impact it could have on their finances. From the increase in the cost of filling your car up, to rising energy bills and the price of everyday goods, many of us are worried about how to cope.
To help better understand the cost increase, it might be useful to look at our cost of living calculator. This easy to use tool allows you to enter your own costs for housing, energy, fuel and other bills. Our calculator will show how much extra you might need to pay, based on the increase in prices for specific items. We've also added some helpful tips on how to save money on things like energy bills, travel and household expenses.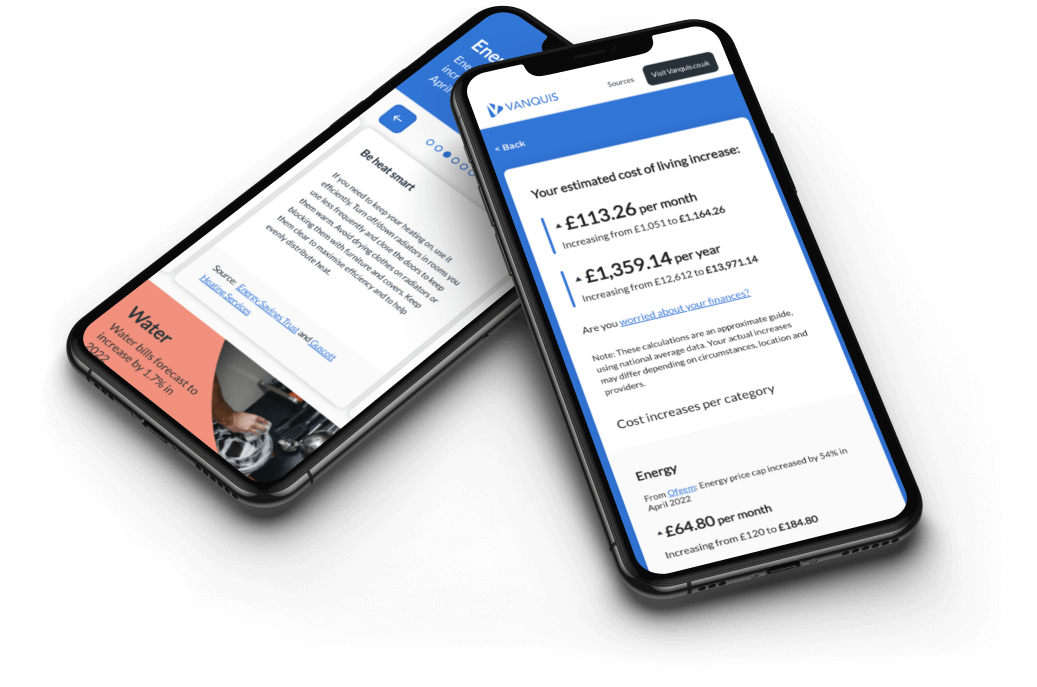 What is inflation?
We've all heard of inflation, but it can be hard to understand how it relates to our everyday spending. Put simply, when the price of everyday essentials goes up like we described above, we call it inflation. As a result of inflation, money loses its real value over time as the overall costs of products increases.
Think of inflation like this. If someone gives you ten pounds now, it might buy you ten loaves of bread tomorrow. But, if you hold onto that ten pounds for a few years, the cost of bread may have gone up, and your same ten pounds won't buy you as much bread. That's inflation, and it's rising very quickly at the moment. This rise is what we call the inflation rate or the rate of inflation.
Typically, the change in inflation is shown as a percentage. So if one loaf of bread costs £1 and then the price increases by 5p, the rate of inflation is 5%. For comparison, at the time of writing, the inflation rate is 6.2%* which is the highest it's been since 1997.
Want to see how rising costs could affect you? Try our cost of living calculator.
*Inflation, measured as a change in the Consumer Prices Index (CPI), rose by 6.2% in the 12 months to February 2022, up from 5.5% in January.
Why are prices rising?
Most of the things we buy can go up in price year by year, but at the moment the rise in prices is happening much faster than normal. You will have noticed that your basket of shopping at the supermarket is more expensive than usual. In addition, the cost of heating your home and filling your car with petrol has also increased.
These rising costs and the fact that they're happening so quickly is putting a strain on lots of people's finances. This could be because for some people, the wages and any benefits they receive aren't increasing enough to help them meet the increase in prices. In fact, the cost of everyday living is going up so much that it's creating a challenge for lots of people.
Prices are going up for a few different reasons, these include:
Fuel and energy costs are going up because of high demand and international events that have an impact on global supply chains.
The government has ended some of its pandemic support for businesses, which has caused rising costs in some industries. VAT has also returned to its 20% level, following the end of the reduced VAT rate which was in place through the pandemic.
In some industries, a shortage of staff has pushed prices upwards.
Inflation has increased since the economy opened back up following the relaxation of Covid-19 measures and more demand for products and services.