Using Google Pay on your mobile device is fast, easy and secure. You can pay for goods and services in-store or online, wherever you see the Google Pay or contactless symbol. When you pay with Google Pay your actual card number is never shared, so your payment info stays safe. It only takes a few minutes to set up using your Vanquis Bank App or through Google Wallet.
Add your Vanquis card to your Google Wallet
Here are the ways to add your card to Google Wallet, follow the steps below to find out how. Once added, you can pay everywhere Google Pay is accepted in-store and online.
Using the Vanquis App
Add your Vanquis card to your Google Wallet using the Vanquis Bank App.
Make sure you're signed into Google Play, have the Google Wallet app installed and follow these steps:
open your Vanquis app
go to the More menu then tap 'Add to GPay'
follow the on-screen instructions to get started.
You can also set your Vanquis card as the default for contactless payments. To do this open Google Wallet, select your Vanquis card, tap 'Details' and tap 'Make default for contactless'.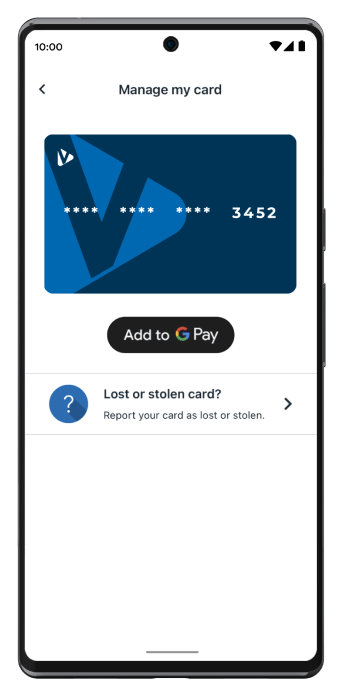 Using Google Wallet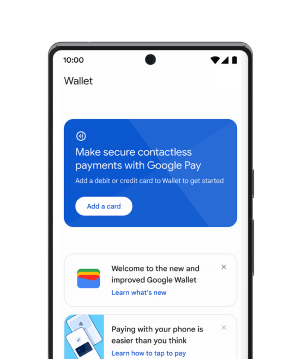 Step 1
Open Google Wallet on your phone or other mobile device and tap 'Add a card'. You'll need to download the Google Wallet app if you don't already have this on your device.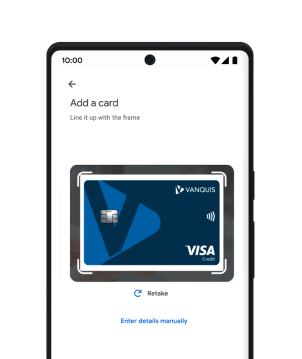 Step 2
You can add your Vanquis credit card by scanning the card or by entering the card details manually.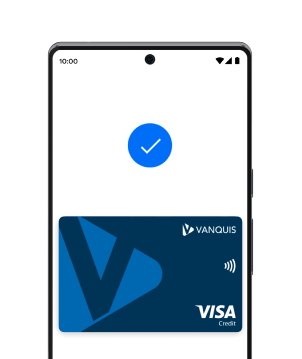 Step 3
We'll need to verify your card for security and that's it - you're all set up!
Using Google Pay in-store
Using your Vanquis credit card with Google Pay is simple. Just unlock your device and hold it over the payment terminal. Look for the check mark to confirm the payment is complete. To use Google Pay, you must have:
a valid Google Account.
an Android device in the UK using version 5.0 or higher.
near field Communication (NFC) switched on. You can turn on NFC in your device settings.
Don't forget, if your Vanquis card is not your default payment card, you'll need select it first before you pay.
Google Pay is accepted wherever you see the Google Pay or contactless symbols.