Credit limit increases
As a new customer you get a manageable credit limit of between £250 - £1,200. This aims to help you get used to how a credit card account works. Managing your Vanquis account will allow you to make payments, check your balance or change a payment due date to suit you. This aims to build your confidence and understanding of a credit card.
We review customers every 5 months for credit limit increases. We do not increase limits on request. As a responsible lender we want to ensure you can comfortably manage your repayments. Increasing your limit means you have more flexibility to spend. A bigger balance equals a higher minimum payment and an increase to the amount of interest you could get charged.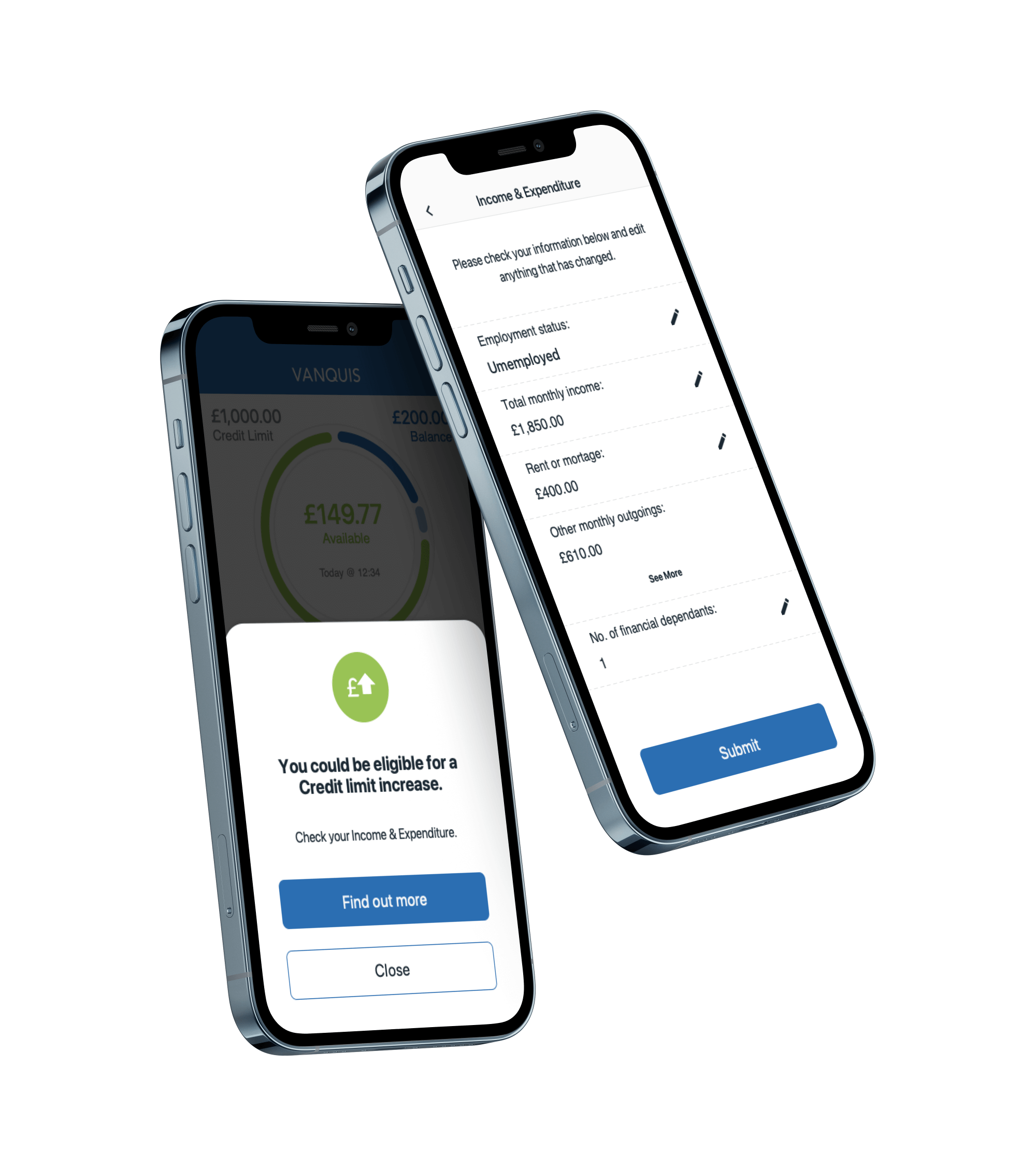 Being offered an increase
It's not possible to make a request for a Credit Limit Increase (CLI) but we'll let you know when you're eligible for one. To be offered an increase you need to have the correct marketing preferences set. This is because in the past you may have asked us not to contact you about any CLI offers.
You can update your marketing preferences using our automated service on 0330 099 3000*. Follow these steps to change your preference:
Choose the option 'manage your account'
We'll then ask you to verify your details, before presenting more options
From the options, choose 'credit limit queries' and then 'change preferences'
When eligible you'll receive an offer by Email, SMS or your App. Your offer will tell you the amount of your increase and how to accept it. We may ask you to complete an income and expenditure form (sometimes called an I&E). It is important that you complete this I&E form so we are able to give you the increase and ensure it is affordable.
Sometimes an increase may not be the best thing for your current situation. You may think the increase is too much to manage. Or you may feel that the temptation to borrow more than you need will be too great. If this is the case, you can decline our offer. If your situation changes you will need to wait for another offer. You should continue to keep your Vanquis account in good order.
*Network charges may apply. Calls to 01 and 03 numbers from UK landlines and mobiles are normally included in free plan minutes if available; otherwise calls to 03 numbers cost the same as calls to 01/02 prefix numbers. Calls to 0800 or 0808 numbers are free from mobiles and landlines.
Increasing your chances
We aim to give you a credit limit that reflects your needs and your ability to manage your credit accounts.
To increase your chances of a limit increase you should:
Make good use of the credit available to you. Low usage could mean your current limit meets your needs
Keep any external credit accounts in good order (credit cards, loans or catalogues)
Avoid going over your credit limit
Make sure your payments are on time
Doing these things shows you can manage your Vanquis and other credit accounts.
Income & Expenditure
You may have seen or heard about Income & Expenditure forms before. They provide us a good overview on your financial situation. Here are some of the things you could be asked when completing yours:
Your income (usually any salary you earn but also includes any benefits or grants)
Your priority bills (rent, mortgage, council tax and gas)
Other living expenses (clothes, food and petrol/diesel)
Other spending (Broadband and insurance)
We do this to make sure you don't take on any unmanageable amount of debt. This is all to ensure we offer you the best support possible.
Credit limit decreases
We understand that situations and personal needs change all the time. You maybe expecting a change in your monthly income which impacts your outgoings or payments. You may choose to decrease your credit limit.
You may find yourself a victim of financial abuse. This is a form of domestic abuse where an abuser restricts a person's ability to manage their own money. For information, help and support with financial abuse please see the Money Advice Service.
Decreasing your credit limit could be a good action to take to reduce the risk of financial hardship. To request a decrease or seek further support, you can contact Customer Services.